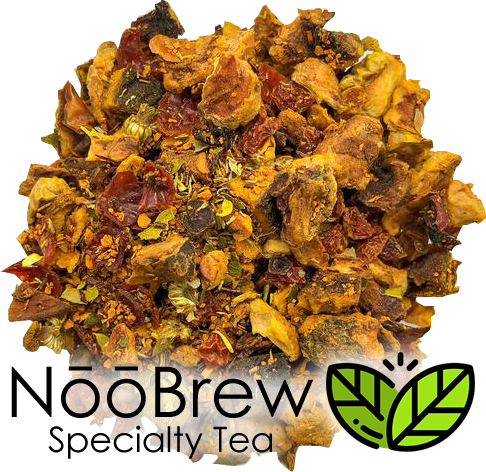 Description
Flooding your senses with ripe peaches as soon as you open the bag, this tea is amazing. A sweet caffeine-free herbal blend combining dried peaches, diced apple, and rose hips with some powerful herbs like turmeric, chamomile, and lemon myrtle. While sipping you get a rush of ripe peaches with notes of passionfruit and a crisp apple rounded out by the honey-like taste of the chamomile. The beautiful combination of fruits and herbs really put your taste buds into a bright ecstasy.
Tumeric has powerful anti-inflammatory properties, strong antioxidant effects, reduces the risk of heart disease, and boost levels of the brain hormone, Brain-Derived Neurotrophic Factor (BDNF) thus fighting off many ailments associated with decreased levels of BDNF like depression and Alzheimer's disease just to name a few.
Chamomile is known to aid in relaxation and even sleep quality while being packed with antioxidants.
Lemon myrtle is known for its anti-inflammatory, antiseptic, and antibacterial properties as well as aiding in sleep and general relaxation.
Rooibos is rich in polyphenols, known to relieve stress, reduce blood pressure, improve bone health, improve heart health, helps balance blood sugar, prevents kidney stones, eases abdominal pain and cramps, increases circulation, and is loaded with antioxidants.
Ingredients: Diced apple, peaches, rose hips, Turmeric, rooibos, chamomile, lemon myrtle, peach flavor, passion fruit flavor.
1-1.5tsp per 8oz cup (Can be infused twice)
Steeping Time: 3-6min
Water Temp: 212